Ivory Coast v. Algeria – The Dead LiveBlog….
January 24th, 2010 | by: Elliott |

View Comments
10:00 Introduction
Folks – things are only about to get weirder, much much weirder. I tried to establish some house rules so that the "literal of hearted" would realize that typographical and factual perfection do not dominate my ethos.
This is a blog, not a newspaper. This is a blog, not a dictionary. This is a blog, and it's about to cover the Ivory Coast – Algeria in a bizarre fashion.
You don't get it. Well, here it is, in summation – life is fun. I said it. I love life. I love fun. I also love soccer. I invite you to have fun with soccer and the internet as we hopefully watch an Ivory Coast victory over Algeria. If you are looking for a troll laden cave, err anonymous soccer forum, email me and I will send you some links.
But for now, prepare yourself because in a few hours, this blog is going to bring you 5-10 minute updates via the Night of the Living Dead.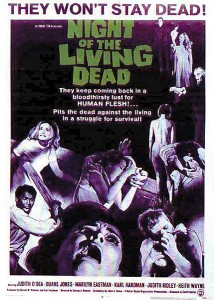 What does that entail? I'm not really sure – it just kinda came to me. Let's find out together….
11:00 – Pregame
Probable Ivory Coast Lineup:
Goalkeeper: Copa
Defense: Tiene, Bamba, Toure, Eboue
Midfield: Zokora, Toure, Tiote,
Forwards: Kalou, Droba, Gervinho
Director/Writer: Romero
Producers: Hardman, Streiner
12:00 Predictions
Algeria has failed to impress so far in this Cup of Nations, but their playoff victory against Egypt was impressive. In a one-off, anything can happen, and the 'Coast cannot underestimate them.
On the side of the Elephants, Drogba has been mostly dormant while Gervinho has sprung to life. If these two forwards were flesh-hunting zombies and I had to flee for my life, my preference would be to be chased by Drogba, not Gervinho. At least at the moment.
Thoughts…
I am very excited about this game, about the coming African World Cup, but not these commercials of "Africans running" and talks of dreams and natural resources. Surely this focus on stereotypical appraisals shouldn't be on any television set. Where is the kid in the classroom, the doctor in the hospital?
Okay, more on that later, for now, the game….
First Half
Correction: Eboue got redcarded in the last match, so he's on the bench.
3 Algeria and the Ivory Coast struggle to breakdown on another's midfield, but a 'Coast counter is snuffed out by a foul from behind on Didier Drogba. The ref plays the advantage, but Gervino cannot catch up with the throughball
4 Yaya Toure surges forward, the ball plays ping pong with some defenders, and Kalou pounces on the loose ball to give the Coast an early 1-0 lead
7 Algeria plays keepaway with the ball, but a laser quick counter by the Coast is called back for offsides. Gervinho was inches away from a free shot on goal and kudos to Didier for seeing his stampeding teammate.
9 Another freak bounce leads to Drogba with a look at goal. He tries to cut inside the backtracking defender, though, and the chance is lost. Algeria's backline looks like a bunch of headless zombies….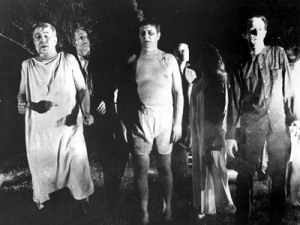 15 Gervinho with a clever pass to Drogba, but Didier cannot pull away from the defenders. A questionable Algerian tackle snuffs out the danger, but, unlike the shock casting of an African American protagonist in the first "Night of the Living Dead," the 'Coast is winning and coasting to nobody's surprise.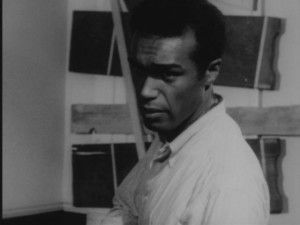 21 Algeria with a rare foray forward and gets a corner. Still, the Coast does not exactly tremble with fear. The off balance, near post header floats harmlessly over the bar.
26 the Algerians grow in confidence with a spell of the ball. Still, they struggle to get half efforts on frame. For their part, the Coast has withdrawn into a catatonic state, like the female lead Barbara in the first Night of the Living Dead…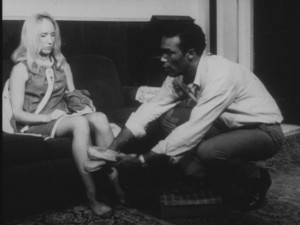 32 The game has hit a serious lull as neither side shows the hunger of a flesh seeking zombie. The Coast 4-3-3 isolates Drogba who looks a step slow on his own. Conversely, the Algerians lack the individual flair and aggression to carve open a clear chance.
38 The game continues to eerily resemble a revisionist remake of Night of the Living Dead – but this time, instead of hungry and aggressive zombies, the zombies just walk around with no aim or purpose. I recommend you get a snack or change the channel to the Madrid game.
39 Just as I write that, Algeria scores off a setpiece to tie the game 1-1. To their credit, the Algerians had pushed up their defensive line in a risky game of offside/onside. And it's paid off.
47 The Coast comes to life with a series of setpieces, but all of Gervinho's pace and tricks, Drogba continues to display the movement of….a zombie. He camped out at the far post on one such play, spurning Toure's hopes of a give-and-go.
Halftime The Coast's early goal and late lapse shows that you can never underestimate or overestimate the Elephants. Yaya and Gervino have impressed and Kalou took his chance well, but Drogba lumbers about to no affect. Perhaps he's too isolated by the 4-3-3, or perhaps he's been bitten by a flesh eating zombie and is merely lying comatose before coming back to life as one of them….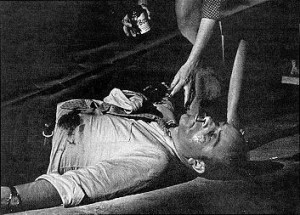 Second Half
And we're off!
47 Algeria wins a corner, but the Coast counter is most quick. As if fleeing from flesh eating zombies, Gervinho runs at the heart of the Algerian defense before laying off for Kalou. Kalou pauses and then takes on his man, dribbling wide before earning a corner.
51 Algeria with a spell of the ball and attacks the space behind the Coast defense. The passes either go long or the forwards are offsides, but the Coast has lost its grip on the game…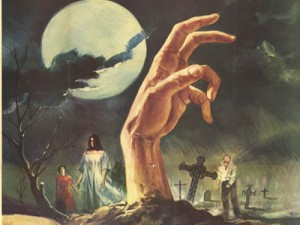 53 Some end to end action. First, Algeria with a neat turn and layoff that ends in a blast a bit over the crossbar. Then, Kalou embarks on a slaloming run, cuts inside two defenders, but his far post shot lacks the pace to beat a goalie, maybe a zombie, but not a goalie.
58 Tired legs abound as the defenses grow slow, lumbering about like a collection of dead but balance-impaired zombies. With so much space on the field, hopefully a second goal is in the cards.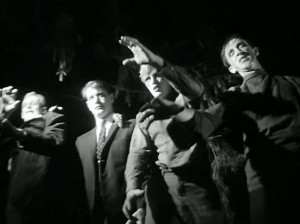 63 Sigh. The Algerians have resorted to longballs, with Kolo Toure the most likely candidate for advil consumption post-match. As for the Coast, Gervinho has disappeared while Kalou continues to give the ball away. But at least he's looking for it.
69 The Algerians continue to win, waste, and win again free kicks. They appear to hope for an own goal, but with no luck. Conversely, Yaya Toure had a nice shot bounce just wide of the far post, but the 4-3-3 is too spread out for any spell of possession Les Elefantes.
70 And it's time for a Bizarre Sub. Kalou, the most dangerous player, comes off. Drogba and Gervinho probably were unnoticed by the coach – he forgot they were on the field, and thus did not sub them off.
Note Yeah so my stream does not have a clock. I'm pretty sure my time is off. Lo siento.
78 Gervinho with a one vs one and skies his effort over the goal. Was that the last gasp, or will the Coast soon start knocking at the door?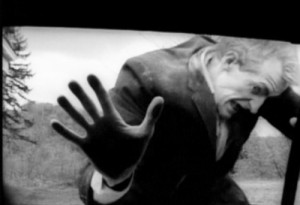 89 An absolute golazo into the far corner and the Coast is leading 2:1. But then Algeria scores seconds later to tie it 2:2.
Dead Time for a game that limped along for so long, the last few minutes caused my heart to beat at such a ferocious rate that I knew I was not a zombie. Wow.
End of Regulation Just when you thought the game was a lifeless corpse, the ill daughter Karen comes back to life, kills her parents, and feasts on her dad's flesh. And by that I mean this game is actually now worth watching!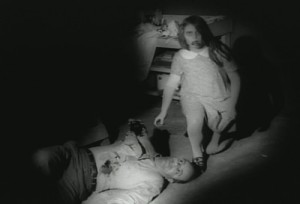 First Extra Time
92 Bouazza scores before you can blink and Algeria is winning 3-2
93 Drogba with a decent free kick that beat the wall but lacked the venom to trouble the goalkeeper. No Coast forward bothered to follow up on the rebound, showing a distinct lack of hunger for goals….or human flesh.
95 Drogba with a venomous shot that the goalie can only parry away. If he had placed his shot, who knows? Still, signs of life from the zombie-esque Coast attack
99 The game has hit a serious lull, with bodies littering the ground as if it were a cemetery. Goalies, midfielders, everybody wants an excuse to take a nap.
115 Even the crowd has lost its energy. The once prevalent vuvuzela has mellowed into an offbeat hum, as if a funeral march….
The Coast needs initiative and pace – Drogba temporarily sprang to life, but Gervinho needs to backtrack and demand the ball. Yaya Toure has also lost a grip on the game, while I still scratch my head and wonder what if…Kalou was still playing. He did score the first Coast goal after all….
Second Extra Time
116 Algeria misses a sitter, but grows in confidence. The Coast hangs on by a thread, giving up ground at every occasion. The slumped shoulders, the dragging feet, is this really Les Elefantes? Or is it perhaps a collection of flesh seeking…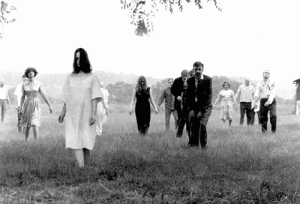 118 Fantastic counter by Algeria. A long ball over the top, a heel pass, and then a shot that just rolls wide of the far post. Algeria gets a corner, a free header, but cannot sink their teeth into the rotting flesh of Ivory Coast's decaying team
120 I love it when TV announcers say "X player may regret missing a chance." Do any players NOT regret missing a chance? Do any relish missing a chance? Toure with a free kick and a collision between the goalie and Drogba. The goalie lies motionless and Algeria has no subs. Intriguing….
The goalie is still motionless, like…like a corpse. Will he come back to life? Or will Algeria play without a goalie. If so, I hope it goes to penalty kicks!
126 2 corner kicks for the Coast and neither gets over the first defender. Uggh. Algeria gives up a free kick, but no Elefante can get a head to ball.
128 The Coast simply cannot construct an effort. Half the team bombs forward, while the other half pass sideways. Eventually Gervinho runs onto a Drogba pass in the box, but the pass led him wide to no man's land. Lots of injury time…..
130 Ivory Coast almost beat the offsides trap as Keita plays in Toure. TV replays show he was on-sides. Umph.
132 Algeria plays a nice spell of keepball, teasing the Coast as if they were humans in a well fortified house and the Elephants were a horde of hungry but lethargic zombies.
End Algeria wins 3-2 as the Ivory Coast fails to maintain two leads, the most crushing the late Algerian equalizer at the end of regulation. Curiously, the coach continued with a 4-3-3 even when Toure and Zokora faded from the match, and the Kalou sub raised more than a few eyebrows.
I had a ton of fun with you guys, congrats to the Algerians, and remember…..if you ever go to a graveyard to pay respects to a relative, bring a bazooka. Just in case.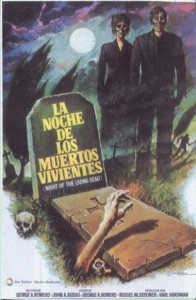 Subscribe

Cote d'Ivoire World Cup Team Blog RSS Feed

Share
blog comments powered by Disqus